Tsunagu Research Project 2023 successfully conducted the second interim presentation!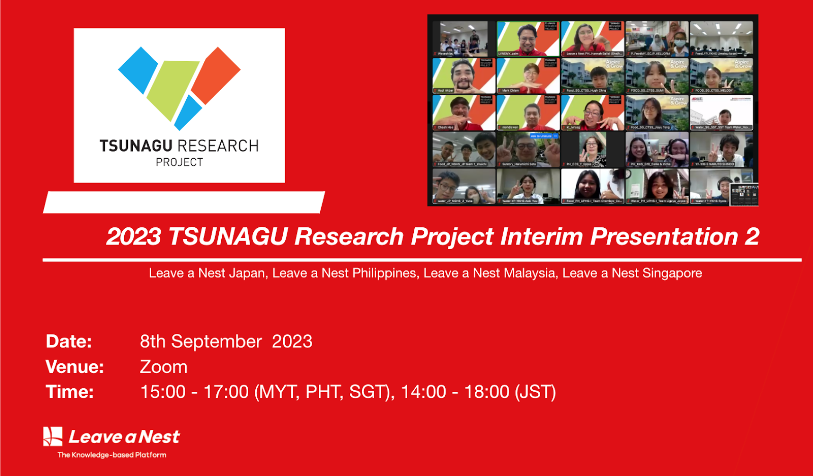 Students in the International Research Collaboration, Tsunagu Research Project 2023 have been engaging in research projects aiming to contribute in solving issues related to Water and Food in Singapore. The project is in its 3rd year, and 30 teams of over 130 students from Singapore, the Philippines, Malaysia and Japan are engaging in the research projects. 
On September 8th 15:00~ ( MY, PH, SG time) , students gathered online for Interim II to share each other's project progress. Interim presentation opportunities are scheduled to encourage students to share about their research to each other and hopefully will get additional ideas on how to progress to the next stage. In this interim II, Mr. Harumichi Seta, General Manager of Sustainability Management Division from Suntory Holdings Limited, the representative from this year's project partner, gave a speech about how Suntory has taken initiatives in regards to the sustainability of water resources and shared their initiative around the globe.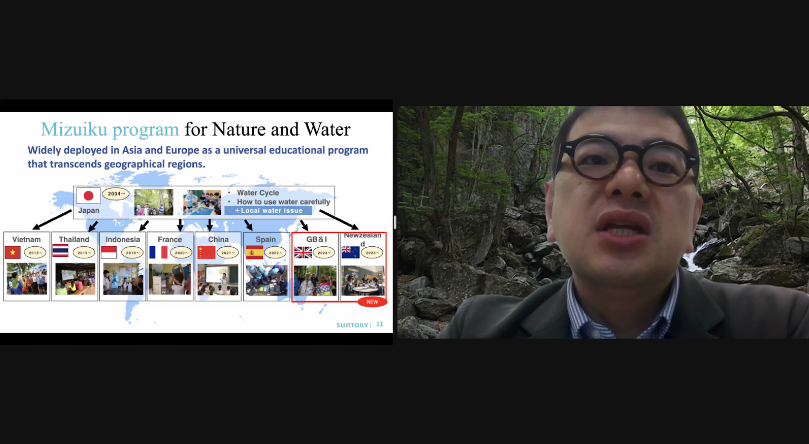 Mr. Harumichi shares the importance of a holistic approach for sustainability of water resources.
After the keynote speech, students are assigned to 4 breakout rooms and share their research progress. Our research mentors also joined the event to share his or her advice to the students.
WHAT'S NEXT IN TSUNAGU RESEARCH PROJECT?
The 5 month Tsunagu journey, starting from June this year, is going into the final phase.The final presentation for this year's Tsunagu Research Project will be held in Science Castle Asia in Malaysia. Some teams will be at the event on site and others will join online. All the teams will be finishing up the final data collection and preparing the final presentation via research mentoring.
---
For more information about Tsunagu Research Project 2023, 
Please contact 
Leave a Nest Singapore   Atten: Mark Chiam.  E-mail: [email protected]

---
Tsunagu Research Project 2024 is now looking for participating schools and supporting partners!
Tsunagu Research Project 2024
Host country: Japan
Research Theme: Health
Project Timeline: June 2024-December 2024
For schools who are interested in being a part of Tsunagu Research Project, please contact us below: 
Leave a Nest Co. Ltd.  Attention: Maeda Satomi   e-mail : [email protected]
You can also check out more details through the official website of the TSUNAGU Research Project
Kindly check past TSUNAGU Research Project news releases here:
Tsunagu Research Project 2023 has been Kickstarted – Connecting and enabling students worldwide to explore and resolve food & water issues through scientific inquiry.