TSUNAGU final reflection day was successfully held on 21 Jan. 2022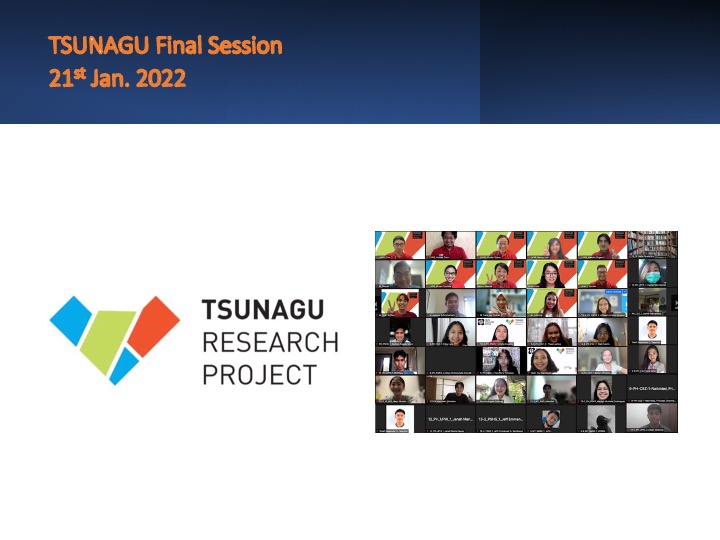 TSUNAGU has successfully concluded the second year program. Different from the first year we had a host country system and Leave a Nest Malaysia was the first host country in the program. We are also honored to have FGV Holdings Berhad as our program partner. The research topic for 2021 was 'agriculture'. Program started with the Kick Off event which was held on 10th June. 2021. 
This year we are grateful to have 13 schools registered to join the TSUNAGU program from 4 countries, Malaysia, Philippines, Singapore and Japan. We had 2 progress presentations along the TSUNAGU journey and 1 final presentation at Science Castle Tokyo. On 21 Jan 2022 we gathered as TSUNAGU program 2021 cohort to reflect on the exciting journey we had together trying to tackle sustainable development in regards to Agriculture.
The reflection session started with opening remarks from Ezza, Leave a Nest Philippines. Opening remarks were followed by messages pre-recorded by the students. Each group has made comments on the program itself as well as the interaction they had with the mentors and other students.
After the students' comments, we had young researchers who were the mentor for the teams to make comments to the whole group. This was done in hope that all students will be able to hear from all mentors involved. 
Finally, program organizer and founder of the TSUNAGU Dr. Satomi Maeda gave her overall comments and vision. We held this reflection in hope that all those involved will be able to come back to where they started in the future. Through the program our bond to be connected (TSUNAGU) has strengthened via the challenges we faced together as a member of this program.
For 2021, we have tried our new way of having a host country and it was Malaysia. For 2022, we are going to have the Philippines as a host country and the theme will be "environment" . We are looking forward to welcoming returning students as well as new students to join in. See you soon at TSUNAGU program.