Announcing Keynote Speaker for Career Discovery Forum Malaysia 2018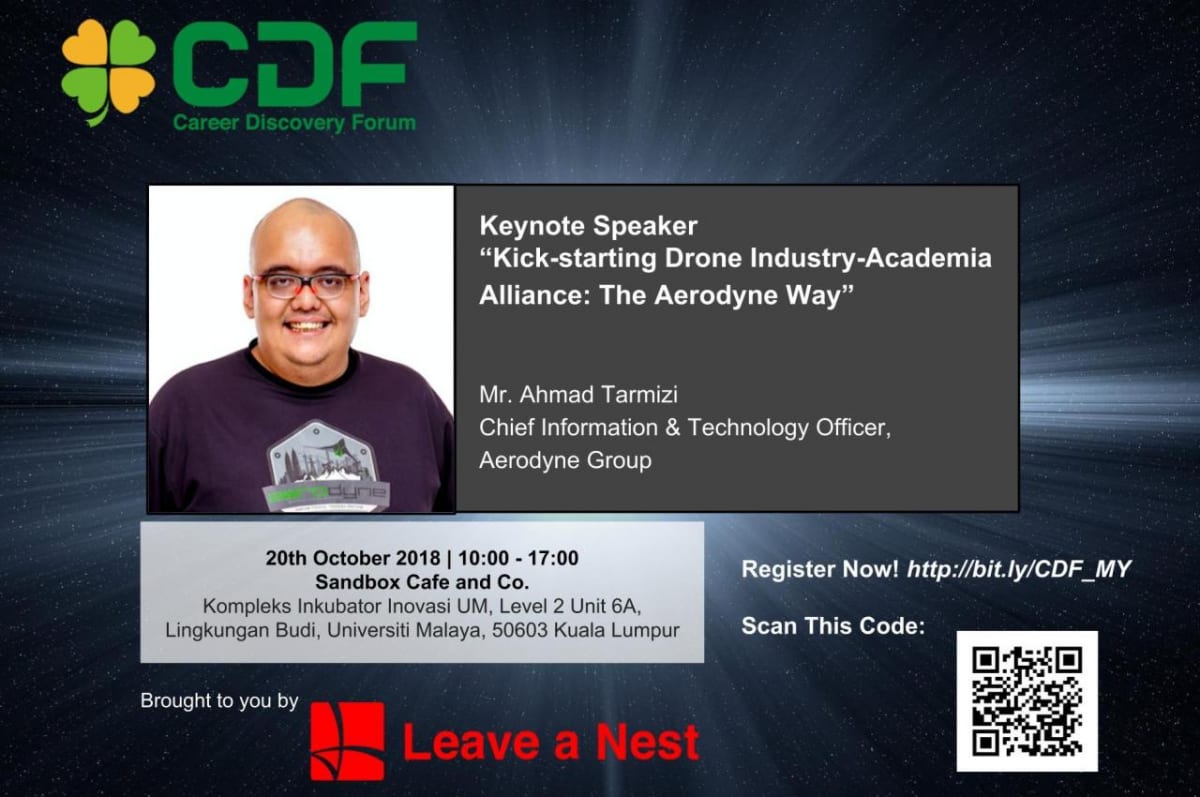 Leave a Nest Malaysia Sdn. Bhd. is proud to announce our Keynote Speaker for Career Discovery Forum Malaysia 2018!
Mr. Ahmad Tarmizi from Aerodyne Group will be speaking about "Kick-starting Drone Industry-Academia Alliance: The Aerodyne Way". He will be sharing about the benefits of cross-fertilization of ideas between industry and academia to enable the creation of high-value products and new innovation.
Speaker's Profile:
Mr. Ahmad Tarmizi is Chief Information & Technology Officer of Aerodyne Group, Malaysia's leading total integrated solution provider for DaaS (drone as a service) + SaaS with the global footprint. Tarmizi is responsible for leading development of Aerodyne's award winning myPRISM and Vertikaliti solution, technology strategy and managing overall IT operations and infrastructure.
Prior to joining Aerodyne, Tarmizi was a head of school and senior lecturer of Limkokwing University of Creative Technology (LUCT). In LUCT, he has been appointed as a principal lecturer in multimedia and in early 2013 was named as faculty manager, oversees all administrative, academic, extra-curricular, and student programs.
In 2010, Tarmizi served as e-business solutions evangelist with SKALI Group, an integrated e-government, and e-business firm, working directly with CEO of SKALI Managed E-Business unit on product technical planning and marketing strategy implementation. His team is responsible for the development of numerous SKALI's innovative products, including the first true public cloud service in Malaysia. His dedication and commitment have been recognized with Outstanding Staff Recognition Award in 2010. Tarmizi holds a Bachelor of Multimedia in Interface Design from Multimedia University, Cyberjaya in 2004.

Have an exclusive discussion with Mr. Ahmad Tarmizi at Career Discovery Forum Malaysia 2018 and discover what is Aerodyne Group's plan in recruiting talents for future jobs.
Register today!
http://bit.ly/CDF_MY
Career Discovery Forum 2018
Date: 20th October 2018
Time: 10.00am – 5.00pm
Venue: Sandbox Cafe and Co., Kompleks Inkubator Inovasi Universiti Malaya, Level 2 Unit 6A, Lingkungan Budi, Universiti Malaya, 50603 Kuala Lumpur.