Announcing Speaker for The First Keynote Speech in Career Discovery Forum in Malaysia!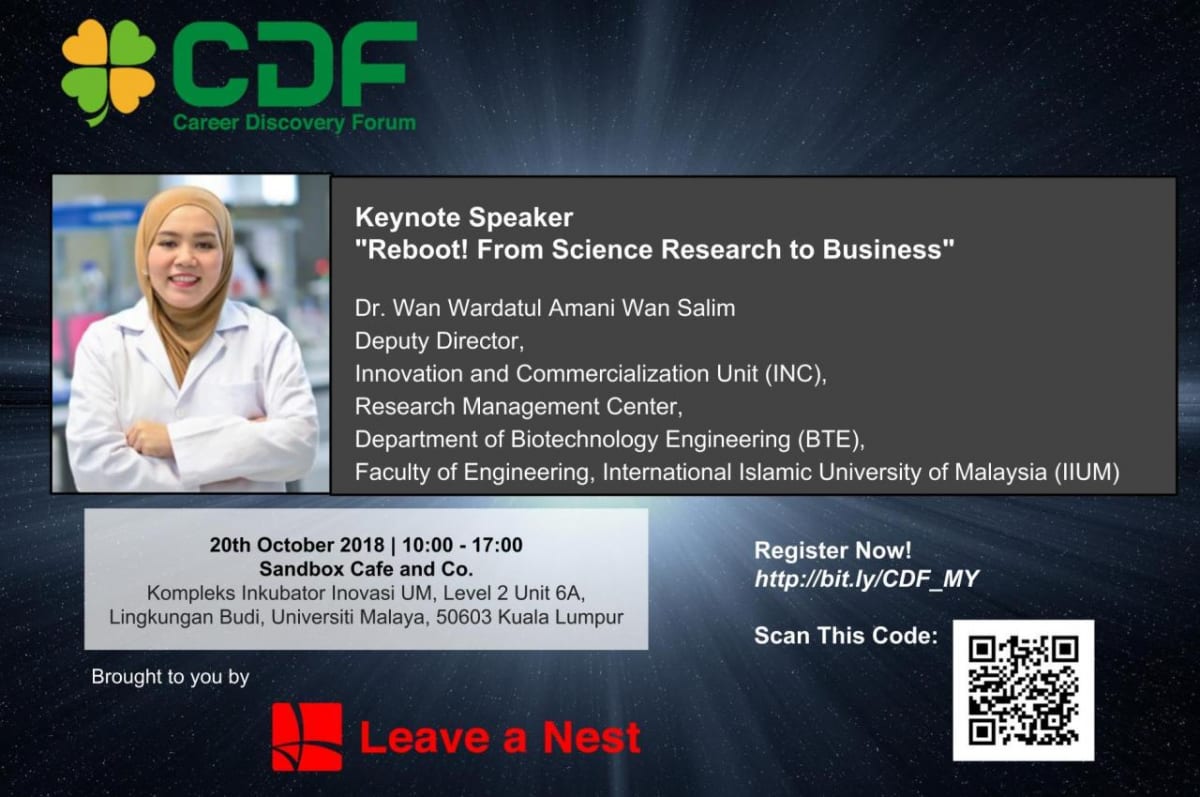 Leave a Nest Malaysia Sdn. Bhd. is proud to announce our Keynote Speaker for Career Discovery Forum Malaysia 2018!
Dr. Wan Wardatul Amani Wan Salim is the Deputy Director, Innovation and Commercialization Unit, Research Management Centre, and from Faculty of Engineering, International Islamic University of Malaysia (IIUM). The title for her Keynote Speech is 'Reboot! From Science Research to Business'.
Speaker's profile:
Dr. Wan Wardatul Amani is a leading award-winning, globally-recognized multidisciplinary engineer and researcher, project manager, and educator with a strong background in nanotechnology, biomedical, electrical, and materials engineering.
She is the first Malaysian to lead a science project at National Aeronautics and Space Administration (NASA). She is very passionate and engaging public speaker for youth and STEM engagement, addressing varied audiences such as K-12 students, corporates and government bodies.

Currently, she is transitioning out of academia to pursue entrepreneurship initiatives in scaling up and creating impact in clean water generation, medical and environmental monitoring, energy storage, security, and defence, as well as other applications of current research work in order to drive sustainable radical innovation in Malaysia with a view towards global impact.
Come and have an exclusive discussion with Dr. Wan Wardatul Amani Wan Salim at Career Discovery Forum Malaysia 2018!
Register today!
http://bit.ly/CDF_MY
Career Discovery Forum 2018
Date: 20th October 2018
Time: 10.00am – 5.00pm
Venue: Sandbox Cafe and Co., Kompleks Inkubator Inovasi Universiti Malaya, Level 2 Unit 6A, Lingkungan Budi, Universiti Malaya, 50603 Kuala Lumpur.