Success at the first Career Discovery Forum in Malaysia!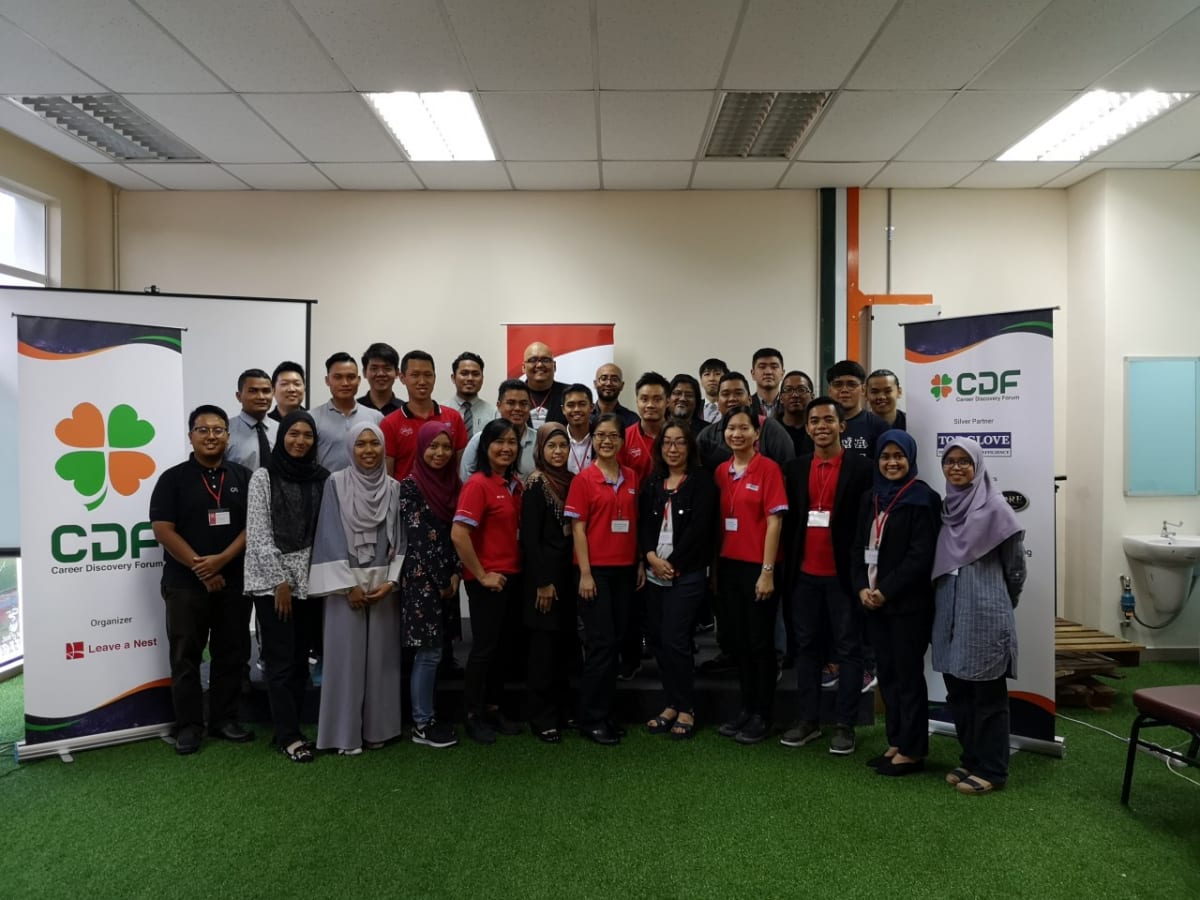 Leave a Nest Malaysia has conducted its first Career Discovery Forum (CDF) in Kuala Lumpur, Malaysia on 20th October 2018. The event was held at the Sandbox Café and Co. in the University of Malaya. The event was attended by CDF Silver Partner Top Glove Corporation Berhad, Bronze Partners Aerodyne Group and CoRE Expert Systems Sdn. Bhd. Participating companies include MyCRO Sdn Bhd, OFO TECH Sdn Bhd and FourFang Sdn Bhd.
To find out more about Career Discovery Forum in Malaysia and event schedule, please visit: https://en.lne.st/2018/07/18/cdf_my/
To find out more about Leave a Nest, please visit: https://en.lne.st/
The event kicked off with the Opening Ceremony by Mr. Abdul Hakim Sahidi.
The first keynote speaker, Dr. Wan Wardatul Amani Wan Salim from the International Islamic University of Malaysia (IIUM) gave her presentation entitled "Reboot! From Science Research to Business" in which she shared an inspirational story about her experience working with NASA and the importance of transdisciplinary research and encouraged participants to acquire as much skills as possible to be able to face different challenges and open doors to more opportunities.
Following the keynote speech was the first Forum Session. The panelists were Associate Professor Dr Normi Mohd. Yahaya from Universiti Putra Malaysia (UPM) and Dr. Tnah Lee Hong from Forest Research Institute Malaysia (FRIM). The field of discussion was in the Biotechnology and Healthcare sector.
Leave a Nest Malaysia member, Ms. Marshila Kaha was the moderator for this session. Participants were treated to valuable insights into how these successful individuals got to where they are today, and also learned what makes a skillful researcher, what challenges they could face and how to overcome them and also about the job market in the Biotechnology sector. Participants were also able to ask questions anonymously through an online question platform and had their questions answered during the session.
After the panel session, guests were free to visit the various booths and exhibitions set up by the participating companies or attend a Career Compass Talk and Advisory Session by Professor Dr. Lilia Halim from Centre of STEM Enculturation, Universiti Kebangsaan Malaysia (UKM).
The second keynote speaker was Mr. Ahmad Tarmizi, Chief Information & Technology Officer of Aerodyne Group. Mr. Ahmad gave a presentation entitled "Kick-starting Drone Industry-Academia Alliance: The Aerodyne Way". In his presentation, he gave a very informative introduction to the drone industry and also his vision to make drones faster, cheaper and better. He would also like to be able to provide silent service drones by 2020. Currently, his company is ranked 7th in top drone service provider in 2018. Mr. Ahmad also encouraged students of any academic background to step foot in this industry, emphasizing that no prior knowledge in the field is required and that the only requirement is a creative mind and a never-give-up attitude.
For the second Forum Session, the panelists were Mr. Armi Abd. Majid, CEO of OFO TECH Sdn. Bhd, Dr. Shian Lee, CEO of Fourfang Sdn. Bhd, Mr. Darween Reza, CEO of MyCRO Sdn. Bhd. and Dr. Ahmad Azlan, CEO of CoRE Expert Systems Sdn. Bhd. The field of discussion was in the Engineering and Advanced Technology sector.
The moderator for this session was Mr. Abdul Hakim. The panelists discussed on drone and AI technology and also their experiences in the field. During the discussion it was clear that companies are more than willing to take in fresh engineering graduates from different engineering backgrounds and not just experienced engineers as people who have vision and ideas are more valued. Technology is always evolving, therefore it is more essential that people are able to keep up with it.
The event concluded with Ms. Idarahayu giving a closing speech as CDF project leader. She encouraged both students and companies to continue to reach out to each other, that communication between the two parties should not end with the event. CDF is only the beginning!
We would like to thank all participants for attending the event and hope that together, we can advance Science and Technology for global happiness!