Career Discovery Forum in Malaysia is back! Book your seats today!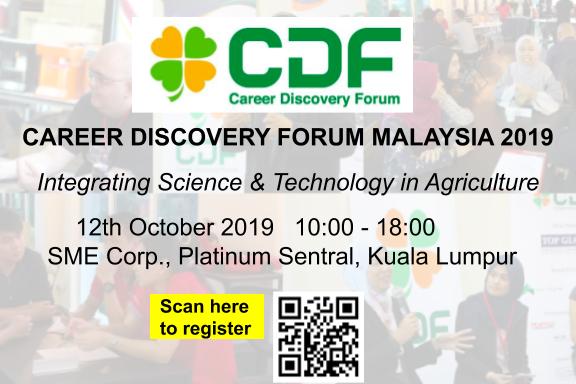 Leave a Nest Malaysia would like to announce our second Career Discovery Forum in Malaysia 2019 this coming 12th October! 
Agriculture remains an important sector of Malaysia's economy. However, there have been three main challenges faced by the agriculture sector in Malaysia. The first challenge is the domination of aging farmers. More than 60% of farmers are at the age of 60 years old and above. This subsequently led to the second challenge where there is a gap between farmers and technologies as these aging farmers are facing difficulty in adopting modern technologies to assist them. In addition, lack of interest in agriculture sector by young people  is also another challenge faced by Malaysia these days. 
To overcome this, the government has taken initiative to implement agriculture science in schools so that the students can make agriculture as their career, while also promoting IR 4.0 and AI in future agriculture sector. The arrival of the Fourth Industrial Revolution (IR 4.0) is inevitable and as a traditional sector, agriculture needs to adopt innovative technology and solutions to increase the yield and remain competitive. The speed of technology adoption in the agriculture sector will also determine whether Malaysia is able to boost the economy and provide relevant jobs for graduates in the coming years.
Are our graduates brave enough to challenge as modern farmers? What kind of jobs are needed to raise the standard and quality of agriculture sector in the future? Can the available technology cope with future needs?
We would like to invite students, graduates, job seekers and researchers from all fields to discover future career path and unravel the road not taken in the agricultural sector with us this October.
Book your seat and register now at: http://bit.ly/CDFMY2019
Why You Should Join?
[Students, Graduates, Job Seekers or Researcher]
Design your future career with potential employers

Identify internship opportunities

Share research discovery and obtain feedback from industry
About CDF
Career Discovery Forum (CDF) is a unique event which started in Tokyo, Japan in 2016. It was introduced by Leave a Nest Group and started as a seminar where university students, researchers and companies exchanged thoughts and visions with the aim to create new science research topic and design future career together. Unlike other career fairs, CDF gave the opportunity for employers to identify potential talents outside normal recruitment channel.
About CDF Malaysia 2019
Leave a Nest Malaysia will be hosting its second CDF with the following objectives:
To inspire and embolden graduates to participate in open discussion to explore and create jobs that are needed in the future.

To provide employers with a unique way to engage with potential talents outside the normal recruitment channel.

To encourage exchange of ideas that can potentially contribute to the improvement of business and working environment.     
Highlights in Career Discovery Forum Malaysia 2019 program
Content
Description
Keynote Speech

Share the company's vision in talent development.

Share about career journey.

Forum Sessions

Share passion and challenges in the following topics:

Session 1

– Shape your way in Agricultural Science & Technology.

Session 2

– Entrepreneurship in Agriculture, Science & Technology.

Exhibition & Open Booth Discussion

For corporations to showcase company products and solutions.

First touch-point with potential employees.

Share the company's vision and exchange thoughts on careers.

Exchange feedback and ideas based on guided discussion.
Program Schedule on 12th October 2019
| | |
| --- | --- |
| Time  | Program |
| 09:30-10:00 | Registration |
| 10:00-10:30 | Opening Session & Keynote Speaker |
| 10:30-11:30 | Forum Session 1: Shape your way in Agricultural Science & Technology |
| 11:30-12:00 | CDF Partner Introduction |
| 12:00-13:00 | Open Booth Discussion (30 mins per session) |
| 13:00-14:00 | Lunch Break |
| 14:00-15:30 | Exhibition Core Time |
| 15:30-16:30 | Forum Session 2: Entrepreneurship in Agriculture, Science & Technology |
| 16:30-17:00 | Open Booth Discussion (30 mins per session) |
| 17:00-17:30 | Exhibition Core Time |
| 17:30-18:00 | Closing Ceremony |
We also welcome corporate partners and startups to support this event. Come down and join us. This is the chance for you to mingle and meet with startups, big corporations and government agencies to explore future career path.
Link to register: http://bit.ly/CDF2019Company
Our past events:
Career Discovery Forum Japan 2019 (World Forum):
https://cdf.lne.st/world-forum-cdf2019/
Career Discovery Forum Malaysia 2018 :
https://en.lne.st/2018/10/23/first-cdf-malaysia/
Here is the snapshot of Career Discovery Forum Malaysia 2018