Announcing Keynote Speaker for Career Discovery Forum 2019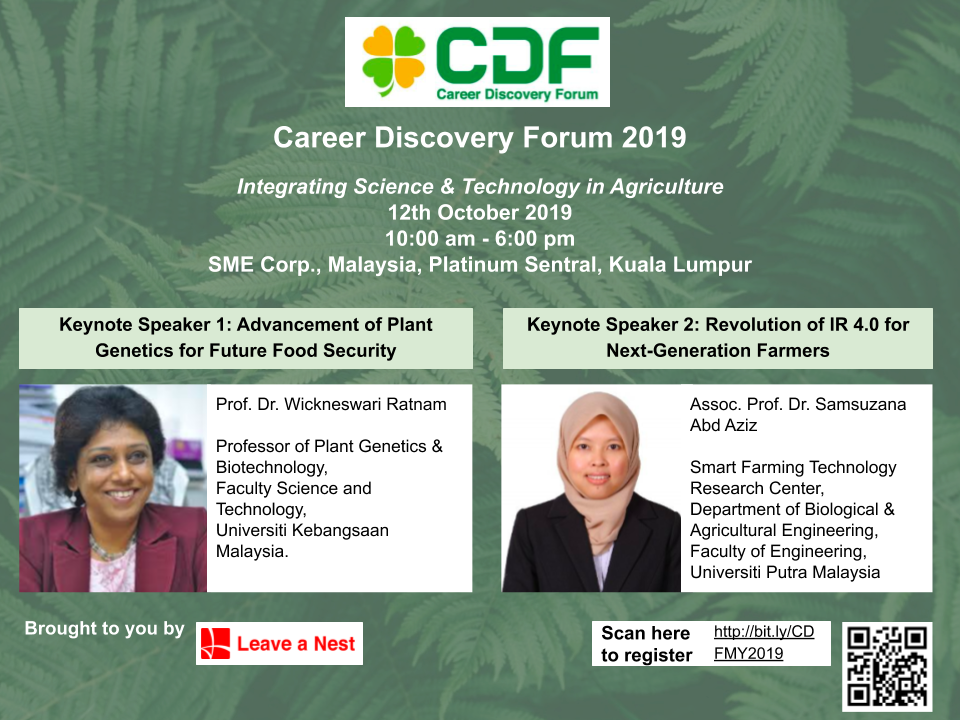 The second Career Discovery Forum will come less than 2 weeks time. Leave a Nest Malaysia is proud to announce our Keynote Speakers for the event!
Please refer to their profile below:
Speaker's Profile 
Keynote Speaker 1
Professor Dr. Wickneswari Ratnam
Deputy Dean of University, Industry and Community Partnerships at the Faculty of Science and Technology, UKM & Chair of Institutional Biosafety Committee, UKM.
Keynote Speech Title: 'Advancement of Plant Genetics for Future Food Security'.
Prof. Dr. Wickneswari Ratnam has 30 years of experience in plant genetics and biotechnology. She is the Managing Director of Nomatech Sdn. Bhd., a start-up company on agricultural innovations. She has led nationally funded projects on plant genetic diversity, molecular biology of flowering in rattans and functional genomics of wood formation in Acacia hybrid. She has also led national and international research projects on QTL mapping in rice and the genetic improvement of biotic and abiotic stress in rice.
Keynote Speaker 2
Associate Professor Dr. Samsuzana Abd Aziz
Deputy Dean of Postgraduate Studies, Faculty of Engineering, UPM.
Keynote Speech Title: 'Revolution of IR 4.0 for Next-Generation Farmers'.
Assoc. Prof. Dr. Samsuzana Abd Aziz has served as the Department Head for almost four years from 2013 until 2016. She received Young Female`1 Leader Professional Development Award from IEEE-WiCAS in 2015. Her most recent research "Building-Integrated Farming" focuses on democratizing agriculture by bridging the knowledge gap between ageing farmers and digital natives. In 2018 she was the first runner up for ASEAN-US Science Prize for Women. Later, she was appointed as the Head of Smart Farming Technology Research Centre, UPM.
Come and meet with Prof. Dr. Wickneswari Ratnam and Assoc. Prof. Dr. Samsuzana Abd Aziz exclusively at Career Discovery Forum 2019 to unravel more about the agriculture sector in Malaysia and allow potential career path to be discovered and created by the participants!
Register now at: http://bit.ly/CDFMY2019