Introducing the Panelists for Session 1 in Career Discovery Forum in Singapore 2019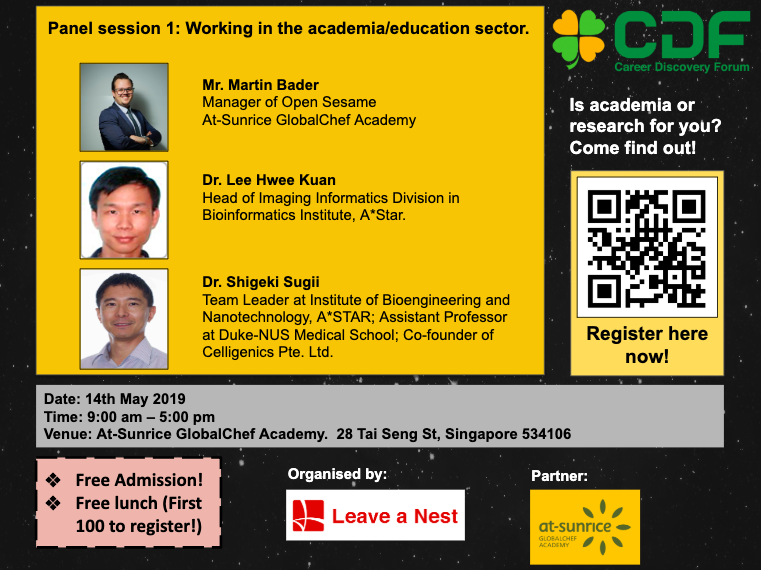 The Inaugural Career Discovery Forum in Singapore 2019 is just around the corner! If you haven't registered yet, there's still time! First 100 people who register gets free lunch!
You can register here: http://bit.ly/cdfsg2019
Introducing our panelists for session 1 who will be having discussions on the theme of working in the education and academic sector! Each panelist will be giving a short presentation about themselves before proceeding on to the discussions.
Speaker 1: Mr. Martin Bader
An accomplished high impact sales and marketing director with commercial problem solving skills for both emerging and established markets, backed by 15 years' experience within the Hospitality / Food & Beverage Industry. Currently Martin is managing Open Sesame, a Food-Centric Innovation and Investment Platform that focus on innovation enablement for companies via a startup accelerator Eco-System and a platform for investors. It supports entrepreneurs with a Food-Centric Innovation, which is cross fertilised with one of six other disciplines: Education, Tourism, Well-Being, Journalism, Do Good, and Sustainability.
Speaker 2: Dr. Lee Hwee Kuan
Dr. Lee Hwee Kuan obtained his PhD in Theoretical Condensed Matter Physics from Carnegie Mellon University in 2001. Hwee Kuan held several postdoctoral positions in Oak Ridge National Laboratory, University of Georgia and Tokyo Metropolitan University before returning home in 2005. He is currently the head of Imaging Informatics Division in Bioinformatics Institute. He also holds several external appointments in National University of Singapore, Singapore Eye Research Institute and Government Technology Agency of Singapore.
Speaker 3: Dr. Shegiki Sugii
Dr Sugii graduated with B.S. from Kyoto University, Japan, received his Ph.D. at Dartmouth School of Medicine, USA, and conducted his postdoctoral training at the Salk Institute for Biological Studies and Howard Hughes Medical Institute, USA. Aspiring to be an academic entrepreneur, he is interested in translating his research toward applications of fat-derived stem cells in chronic and metabolic diseases such as obesity and diabetes.
If you are thinking of trekking down the academic / education route or want to know what it's like to be a researcher, then come on down to CDF!
Event: Career Discovery Forum (CDF) in Singapore 2019
Date: 14th May 2019
Time: 08:30 – 17:00 (registration from 08:30 – 09:00)
Venue: At-Sunrice GlobalChef Academy. 28 Tai Seng St, Singapore 534106 (Sakae Building, Level 5).
For more information about CDF, please follow this link: https://en.lne.st/2019/04/12/cdfsg2019/
Register here: http://bit.ly/cdfsg2019