Introducing the Panelists for Session 3 in Career Discovery Forum in Singapore 2019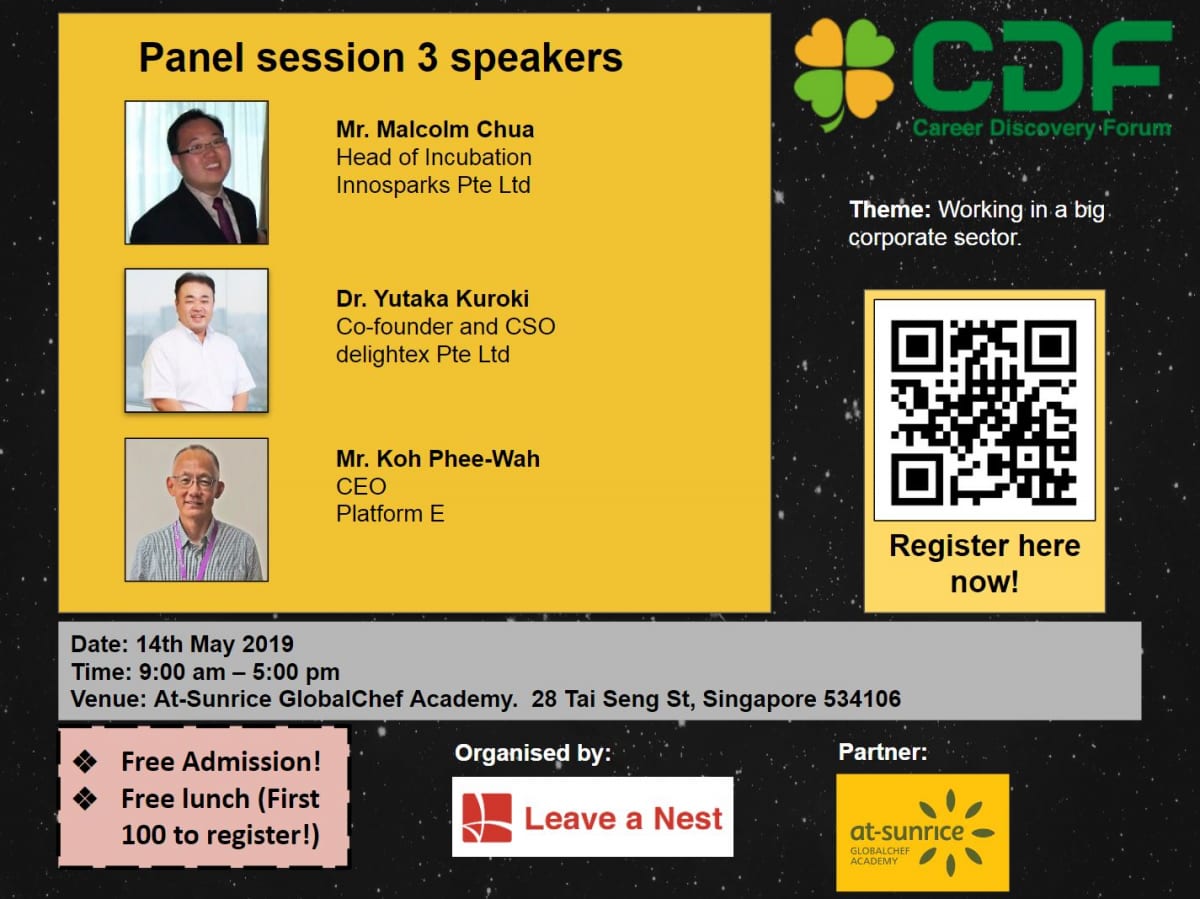 The Inaugural Career Discovery Forum in Singapore 2019 is just around the corner! If you haven't registered yet, there's still time! First 100 people who register gets free lunch!
You can register here: http://bit.ly/cdfsg2019
Introducing our panelists for session 3 who will be having discussions on the theme of working in the startup sector! Each panelist will be giving a short presentation about themselves before proceeding on to the discussions.
Speaker 1 – Mr Koh Phee-Wah
Mr. Koh Phee Wah is the CEO of Platform E, an entrepreneurship learning hub by the Singapore Institute of Management. Phee Wah has more than 20 years of leadership experience in the life-sciences industry. He was previously the CEO at Uni-BioScience in China, a small-cap biopharma company listed HKEX. Prior to that, Phee Wah has also held regional leadership positions in UCB China, Becton Dickinson and Monsanto. He has worked overseas for majority of his career, in countries such as Australia, China, Indonesia, USA and Vietnam. Phee-Wah is currently a mentor and co-instructor at NUS Enterprise (Lean Launchpad programme).
Speaker 2 – Mr Malcolm Chua
Malcolm Chua is currently the Head of Incubation at Innosparks – an ST Engineering Open Lab. Innosparks boasts innovative product lines and invests/incubates early stage intrapreneurs and entrepreneurs, translating technology to value across multiple business units. Prior to this appointment, Malcolm was the founder of 2 start-ups and had over a decade of leadership and commercial experience across both aerospace and infrastructure sectors in both SMEs, Multi-National and Government Agencies. He is also a highly regarded speaker, panelist and guest lecturer for various private and public organisations in the field of innovation and start-ups. Malcolm holds a Masters of Engineering (M.Eng) (1st Class) from Imperial College, London, is a CFA charter holder as well as a certified coach.
Speaker 3 – Dr Yutaka Kuroki
Dr. Yutaka Kuroki is the Chief Scientific Officer & cofounder of delightex Pte Ltd. Dr. Kuroki earned his Ph.D. in Agricultural study from the University of Tokyo. Before co-founding delightex, he worked at and had various roles in Japan Tobacco Inc. (JT), such as a Researcher, R&D Strategy Manager, and Human Resource Director before joining the business development team.
If you are thinking of trekking down the big corporate route, then come on down to CDF to learn more!
Event: Career Discovery Forum (CDF) in Singapore 2019
Date: 14th May 2019
Time: 08:30 – 17:00 (registration from 08:30 – 09:00)
Venue: At-Sunrice GlobalChef Academy. 28 Tai Seng St, Singapore 534106 (Sakae Building, Level 5).
For more information about CDF, please follow this link: https://en.lne.st/2019/04/12/cdfsg2019/
Register here: http://bit.ly/cdfsg2019