[Announcement]- Calling applicants for "Enter to Japan Market" Program Batch 2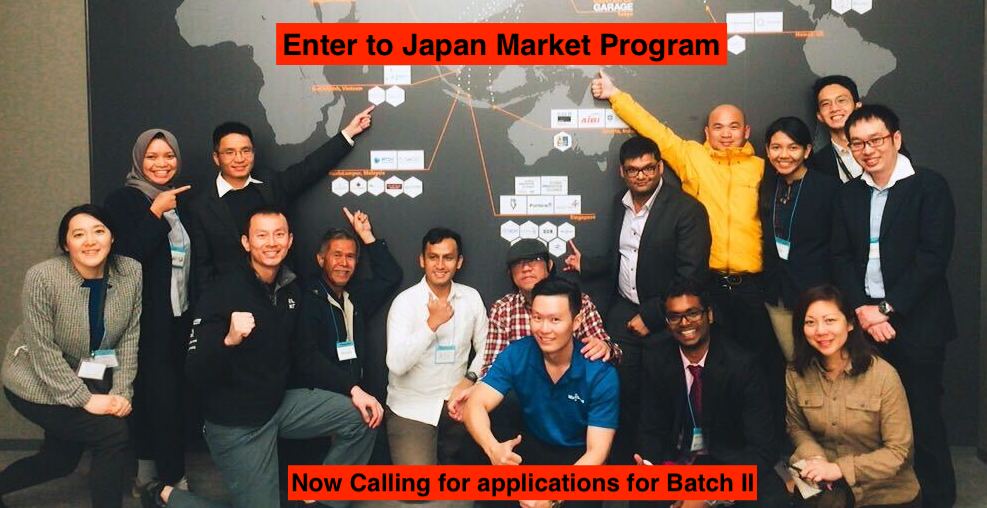 After the successful completion of Batch I for Enter to Japan Market prog, we are happy to share that on Monday, June 29th 2020, Leave a Nest, Singapore successfully completed the info session calling potential  applicants for "Enter to Japan Market" Program Batch 2, specifically targeting Singapore based deep tech startups. This years program is a completely online program.
This program  was conceived by LVNS in partnership with Enterprise Singapore (ESG) & Economic Development Board, Singapore (EDB), under the umbrella of the Global Innovation Alliance (GIA) acceleration program.
If you are interested to participate in this program please click

 

here

to apply.
This form may take you approximately 10-15 minutes to complete.
————————————————————————————————————————–Japan remains an untapped market for international startups interested in research collaborations, open innovation, business expansion and  raising funds
Japan is an attractive destination for startups from all over the world to expand into, due to its mature market and population. Now more than before, Japanese companies are focusing on collaborations with domestic and international startups towards open innovation. Japan is a single cultural country hence it is also easier for international startups to expand, gain traction and scale their business after establishing a single successful point of entry.
That said, international startups do find it difficult to enter Japan, due to many reasons which may include issues such as language barriers, differences in business culture and having the right networks or connections.
General Program Overview- Batch II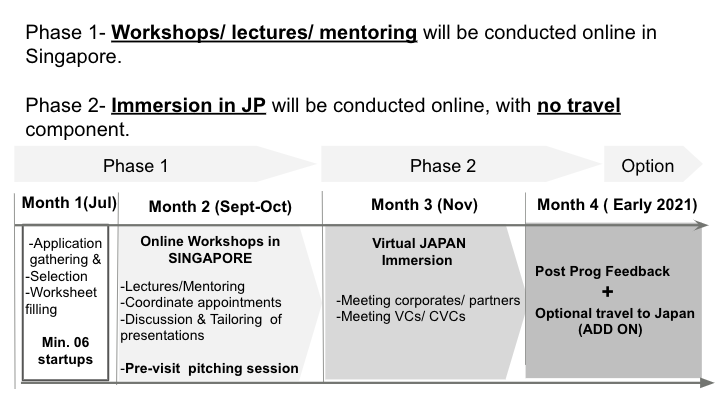 *Optional travel to Japan will be scheduled for early 2021. The optional travel to Japan is subject to additional fees (to be paid by the participating startup) and also prevailing conditions & travel restrictions.
————————————————————————————————————————–
Key points to note
-Up to 6 startups will be selected for Batch-II.
–Program Fee SGD 2500 (Online Program)
-Singaporean startups with minimum 30% or greater shareholding from Singaporean or PR are eligible to apply.
To participate in this program please click here to apply.
————————————————————————————————————————–
For more information contact: 
Ravi or Michael @ [email protected]
OR click here for Info Session Slides here
Click here to learn more about Batch 1 startups and program.
————————————————————————————————————————–Feed back from startups who participated in Batch 1 Program.